I WANT THIS BOOK! my mission is to have a library like my grampa jj once had... I'm such a fan of books with appealing photos, with a little history behind each photo &graffiti is like the cherry on top.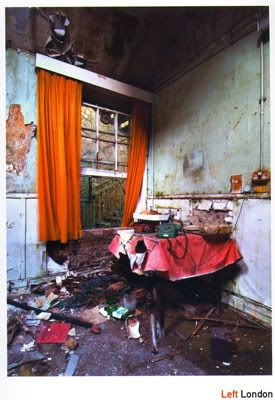 -
Left London is a photographic portrayal of a
bandoned buildings across the capital that reveals an otherwise unseen side of city life. Having explored a multitude of sites and taken over twenty thousand images, the authors were able to assemble a unique collection of photographs vividly illustratin
g this evocative and beautiful subject. Furthermore, as well as extensive interior and exterior shots, the book also contains various items of ephemera found in situ, which provide an additional visual narrative.

Like all cities, London has an established cycle of decay and renewal, however with the forthcoming 2012 Olympics, it is currently embarking on the most ambitious redevelopment plan in its history. In light of this, Left London takes on a particularly compelling and contemporary relevance.